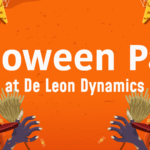 FREE Halloween Party – Oct. 28 from 4-7pm
​​The Professional Aerialist Development Program is a comprehensive training program designed for intermediate and advanced level aerialists aged 18 and above. The program, which can last anywhere from six months to one year depending on the goals of the individual, is designed to provide intense training and instruction to help participants progress from amateur to working professional.
During the 6 month Corporate Entertainment Preparation Program, participants will cover atmospheric performance training for corporate events, corporate event specialty act training (such as stilts and floating spheres), audition preparation, hair, makeup and costuming, promotional materials (such as videos, social media, pictures, and headshots), contract negotiation, insurance, rigging, and safety, and backstage etiquette.
The 12 month program will add the Audition / International Festival Preparation and include act development in preparation for national and international festivals and auditions.
The program is led by Victor and Nicole Flores, both of whom are former elite level gymnasts who have performed professionally at theme parks and for corporate entertainment. With over 15 years of experience producing and managing cirque-style entertainment, they have spent the last 12 years developing a training program that is now considered one of the top programs in the country. They are ready to pass on their extensive knowledge and experience to the next generation of performers.
Our past students have gone on to work for some of the top companies in the country, including Cirque du Soleil, Dragone, Sea World, and Imagination Entertainment, which show the program's effectiveness in training performers to work professionally.
Pricing:
Corporate Entertainment Preparation Program:
6 month program: $3600 (one time payment) or $650/mo for 6 months
Corporate Entertainment Preparation Program + Audition/International Festival Preparation:
12 month program: $6900 (one time payment) or $600/mo for 12 months
Full tuition is due regardless of whether or not student completes the program.
Accepting rolling enrollments - apply now.
Minimum 15+ hrs per week of training is expected from participants.
Email us at info@deleondynamics.com to reserve your spot. Space is limited.